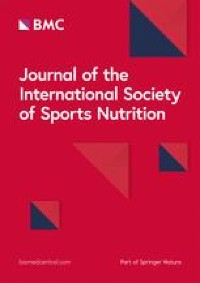 1.
Mueller KJ, Hingst J. The athlete's guide to sports supplements: human kinetics; 2013.
2.
Poulios A, Fatouros I, Mohr M, Draganidis D, Deli C, Papanikolaou K, Sovatzidis A, Nakopoulou T, Ermidis G, Tzatzakis T. Post-game high protein intake may improve recovery of football-specific performance during a congested game fixture: results from the PRO-FOOTBALL study. Nutrients. 2018;10(4):494.
3.
Bradley PS, Sheldon W, Wooster B, Olsen P, Boanas P, Krustrup P. High-intensity running in English FA premier league soccer matches. J Sports Sci. 2009;27(2):159–68.
4.
Braun H. von Andrian-Werburg J, Schänzer W, Thevis M: nutrition status of young elite female German football players. Pediatr Exerc Sci. 2018;30(1):157–67.
5.
Rosenbloom CA, Loucks AB, Ekblom B. Special populations: the female player and the youth player. J Sports Sci. 2006;24(07):783–93.
6.
Brocherie F, Girard O, Forchino F, Al Haddad H, Dos Santos GA, Millet GP. Relationships between anthropometric measures and athletic performance, with special reference to repeated-sprint ability, in the Qatar national soccer team. J Sports Sci. 2014;32(13):1243–54.
7.
Rebelo A, Brito J, Maia J, Coelho-e-Silva M, Figueiredo A, Bangsbo J, Malina RM, Seabra A. Anthropometric characteristics, physical fitness and technical performance of under-19 soccer players by competitive level and field position. Int J Sports Med. 2013;34(04):312–7.
8.
Comfort P, Stewart A, Bloom L, Clarkson B. Relationships between strength, sprint, and jump performance in well-trained youth soccer players. The Journal of Strength Conditioning Research. 2014;28(1):173–7.
9.
Slimani M, Nikolaidis PT. Anthropometric and physiological characteristics of male soccer players according to their competitive level, playing position and age group: a systematic review. J Sports Med Phys Fitness. 2017:07950–6.
10.
Schmikli SL, de Vries WR, Brink MS, Backx FJ. Monitoring performance, pituitary–adrenal hormones and mood profiles: how to diagnose non-functional over-reaching in male elite junior soccer players. Br J Sports Med. 2012;46(14):1019–23.
11.
Walker AJ, McFadden BA, Sanders DJ, Rabideau MM, Hofacker ML, Arent SM. Biomarker response to a competitive season in division I female soccer players. J Strength Conditioning Research. 2019;33(10):2622–8.
12.
Handziski Z, Maleska V, Petrovska S, Nikolik S, Mickoska E, Dalip M, Kostova E. The changes of ACTH, cortisol, testosterone and testosterone/cortisol ratio in professional soccer players during a competition half-season. Bratisl Lek Listy. 2006;107(6/7):259.
13.
Silva JR, Rebelo A, Marques F, Pereira L, Seabra A, Ascensão A, Magalhães J. Biochemical impact of soccer: an analysis of hormonal, muscle damage, and redox markers during the season. Applied Physiology, Nutrition, Metabolism. 2014;39(4):432–8.
14.
Huggins RA, Fortunati AR, Curtis RM, Looney DP, West CA, Lee EC, Fragala MS, Hall ML, Casa DJ. Monitoring blood biomarkers and training load throughout a collegiate soccer season. J Strength Conditioning Research. 2019;33(11):3065–77.
15.
Cholewa JM, Wyszczelska-Rokiel M, Glowacki R, Jakubowski H, Matthews T, Wood R, Craig SA, Paolone V. Effects of betaine on body composition, performance, and homocysteine thiolactone. J Int Society of Sports Nutrition. 2013;10(1):39.
16.
Cholewa JM, Hudson A, Cicholski T, Cervenka A, Barreno K, Broom K, Barch M. Craig SAJJotISoSN: the effects of chronic betaine supplementation on body composition and performance in collegiate females: a double-blind, randomized, placebo controlled trial. 2018;15(1):37.
17.
Lee EC, Maresh CM, Kraemer WJ, Yamamoto LM, Hatfield DL, Bailey BL, Armstrong LE, Volek JS, McDermott BP, Craig SA. Ergogenic effects of betaine supplementation on strength and power performance. J Int Soc Sports Nutrition. 2010;7(1):27.
18.
Pryor JL, Craig SA, Swensen T. Effect of betaine supplementation on cycling sprint performance. Journal of the International Society of Sports Nutrition. 2012;9(1):1–7.
19.
Hoffman JR, Ratamess NA, Kang J, Rashti SL, Faigenbaum AD. Effect of betaine supplementation on power performance and fatigue. Journal of the International Society of Sports Nutrition. 2009;6(1):7.
20.
Trepanowski JF, Farney TM, Mccarthy CG, Schilling BK, Craig SA, Bloomer RJ. The effects of chronic betaine supplementation on exercise performance, skeletal muscle oxygen saturation and associated biochemical parameters in resistance trained men. The Journal of Strength Conditioning Research. 2011;25(12):3461–71.
21.
Apicella JM, Lee EC, Bailey BL, Saenz C, Anderson JM, Craig SA, Kraemer WJ, Volek JS, Maresh CM. Betaine supplementation enhances anabolic endocrine and Akt signaling in response to acute bouts of exercise. Eur J Appl Physiol. 2013;113(3):793–802.
22.
Senesi P, Luzi L, Montesano A, Mazzocchi N, Terruzzi I. Betaine supplement enhances skeletal muscle differentiation in murine myoblasts via IGF-1 signaling activation. J Transl Med. 2013;11(1):174.
23.
Fielding R, Manfredi T, Ding W, Fiatarone M, Evans W, Cannon JG. Acute phase response in exercise. III. Neutrophil and IL-1 beta accumulation in skeletal muscle. Am J Physiology-Regulatory, Integrative Comparative Physiology. 1993;265(1):R166–72.
24.
Xia Y, Chen S, Zhu G, Huang R, Yin Y, Ren W. Betaine inhibits interleukin-1β production and release: potential mechanisms. Front Immunol. 2018;9:2670.
25.
Mirwald RL, Baxter-Jones AD, Bailey DA, Beunen GP. An assessment of maturity from anthropometric measurements. Medicine. 2002;34(4):689–94.
26.
Nobari H, Aquino R, Clemente FM, Khalafi M, Adsuar JC, Pérez-Gómez J. Description of acute and chronic load, training monotony and strain over a season and its relationships with well-being status: a study in elite under-16 soccer players. Physiol Behav. 2020:113117.
27.
Nobari H, Silva AF, Clemente FM, Siahkouhian M, García-Gordillo MÁ, Adsuar JC, Pérez-Gómez J. Analysis of fitness status variations of Under-16 soccer players over a season and their relationships with maturational status and training load. Front Physiol. 2020.
28.
Jackson AS, Pollock ML. Generalized equations for predicting body density of men. Br J Nutr. 1978;40(3):497–504.
29.
Nobari H, Tubagi Polito LF, Clemente FM, Pérez-Gómez J, Ahmadi M, Garcia-Gordillo MÁ, Silva AF, Adsuar JC. Relationships between training workload parameters with variations in anaerobic power and change of direction status in elite youth soccer players. Int J Environmental Research Public Health. 2020;17(21):7934.
30.
Nobari H, Oliveira R, Clemente FM, Adsuar JC, Pérez-Gómez J, Carlos-Vivas J, Brito JP. Comparisons of accelerometer variables training monotony and strain of starters and non-starters: a full-season study in professional soccer players. Int J Environ Res Public Health. 2020;17(18):6547.
31.
Arazi H, Mirzaei B, Nobari H. Anthropometric profile, body composition and somatotyping of national Iranian cross-country runners. Turkish J Sport Exercise. 2015;17(2):35–41.
32.
Rahmat AJ, Arsalan D, Bahman M, Hadi N. Anthropometrical profile and bio-motor abilities of young elite wrestlers. Physical education of students. 2016;20(6):63–9.
33.
Harris JA, Benedict FG. A biometric study of human basal metabolism. Proc Natl Acad Sci U S A. 1918;4(12):370.
34.
Shils ME, Shike M. Modern nutrition in health and disease: Lippincott Williams & Wilkins; 2006.
35.
Foster C, Florhaug JA, Franklin J, Gottschall L, Hrovatin LA, Parker S, Doleshal P, Dodge C. A new approach to monitoring exercise training. J Strength Conditioning Research. 2001;15(1):109–15.
36.
Moalla W, Fessi MS, Farhat F, Nouira S, Wong DP, Dupont G. Relationship between daily training load and psychometric status of professional soccer players. Res Sports Medicine. 2016;24(4):387–94.
37.
Nobari H, Ahmadi M, Pérez-Gómez J, Clemente M, Adsuar J, Minasian V, Afonso J. The effect of two types of combined training on bio-motor ability adaptations in sedentary females. J Sports Medicine Physical Fitness. 2020.
38.
Hooper SL, Mackinnon LT. Monitoring overtraining in athletes. Sports Med. 1995;20(5):321–7.
39.
Schwab U, Törrönen A, Toppinen L, Alfthan G, Saarinen M, Aro A, Uusitupa M. Betaine supplementation decreases plasma homocysteine concentrations but does not affect body weight, body composition, or resting energy expenditure in human subjects. Am J Clin Nutr. 2002;76(5):961–7.
40.
Cholewa JM, Hudson A, Cicholski T, Cervenka A, Barreno K, Broom K, Barch M, Craig SA. The effects of chronic betaine supplementation on body composition and performance in collegiate females: a double-blind, randomized, placebo controlled trial. J Int Society of Sports Nutrition. 2018;15(1):37.
41.
Kraemer WJ, French DN, Paxton NJ, Hakkinen K, Volek JS, Sebastianelli WJ, Putukian M, Newton RU, Rubin MR, Gómez AL. Changes in exercise performance and hormonal concentrations over a big ten soccer season in starters and nonstarters. J Strength Conditioning Res. 2004;18(1):121–8.
42.
Minetto MA, Lanfranco F, Tibaudi A, Baldi M, Termine A, Ghigo E. Changes in awakening cortisol response and midnight salivary cortisol are sensitive markers of strenuous training-induced fatigue. J Endocrinol Investig. 2008;31(1):16–24.
43.
Slow S, Lever M, Chambers ST. GEORGE PM: plasma dependent and independent accumulation of betaine in male and female rat tissues. Physiol Res. 2009;58(3).
44.
Tazari M, Baghshani H, Moosavi Z. Effect of betaine versus arsenite-induced alterations of testicular oxidative stress and circulating androgenic indices in rats. Andrologia. 2018;50(10):e13091.
45.
Lever M, Storer MK, Lewis JG, George PM, Chambers ST. Plasma betaine concentrations correlate with plasma cortisol but not with C-reactive protein in an elderly population. Clinical Chemistry Laboratory Medicine. 2012;50(9):1635–40.
46.
Cascalheira JF, Parreira MC, Viegas AN, Faria MC, Domingues FC. Serum homocysteine: relationship with circulating levels of cortisol and ascorbate. Annals of Nutrition Metabolism. 2008;53(1):67–74.
47.
Kang MG, Koh SB, Cha BS, Park JK, Baik SK, Chang SJ: job stress and cardiovascular risk factors in male workers. Prev Med 2005, 40(5):583–588.
48.
Sawai A, Ohshige K, Kura N, Tochikubo O. Influence of mental stress on the plasma homocysteine level and blood pressure change in young men. Clinical Experimental Hypertension. 2008;30(3–4):233–41.
49.
Deminice R, Ribeiro DF, Frajacomo FTT. The effects of acute exercise and exercise training on plasma homocysteine: a meta-analysis. PLoS One. 2016;11(3):e0151653.
50.
Williams KT, Schalinske KL. New insights into the regulation of methyl group and homocysteine metabolism. J Nutr. 2007;137(2):311–4.
51.
Fridman O, Morales AV, Bortoni LE, Turk-Noceto PC, Prieto EA. Corticoadrenal activity regulates in rat betaine-homocysteine S-methyltransferase expression with opposites effects in liver and kidney. J Biosci. 2012;37(1):115–23.
52.
Mejri S, Bchir F, Rayana MB, Hamida JB, Slama CB. Effect of training on GH and IGF-1 responses to a submaximal exercise in football players. Eur J Appl Physiol. 2005;95(5–6):496–503.
53.
Hammami MA, Abderrahman AB, Rhibi F, Nebigh A, Coppalle S, Ravé G, Tabka Z, Zouhal H. Somatotype hormone levels and physical fitness in elite young soccer players over a two-year monitoring period. J Sports Sci Med. 2018;17(3):455.
54.
Wheldon A, Savine RL, Sönksen PH, Holt RI. Exercising in the cold inhibits growth hormone secretion by reducing the rise in core body temperature. Growth Hormone IGF research. 2006;16(2):125–31.
55.
Huang QC, Xu ZR, Han XY, Li WF. Effect of betaine on growth hormone pulsatile secretion and serum metabolites in finishing pigs. J Animal Physiology Animal Nutrition. 2007;91(3–4):85–90.
56.
Cholewa JM, Guimaraes-Ferreira L, Zanchi NE. Effects of betaine on performance and body composition: a review of recent findings and potential mechanisms. Amino Acids. 2014;46(8):1785–93.
57.
Dara SA, Srivastavaa PP, Varghesea T, Guptaa S, Krishnab G, Nuzaibaa PM, Leyaa TJCPB. Expression of Growth and Hunger Related Genes and Physio-Biochemical Responses in Labeo rohita (Hamilton, 1822) Fed with Lysine and Betaine, vol. 53; 2019. p. 851–64.
58.
Mohammd K, Hosseini M, Noorbala A. Secular trends in growth (weight and height) of children in Iran over a decade (1990-1 to 1999). Hakim Research Journal. 2006;9(1):1–8.